Residential Solar&Battery

Home Battery

Solar System Installation
We endeavour to provide you with the highest standards of solar and battery installation services.
HOME BATTERY SYSTEM - THE FUTURE IS NOW!
Sunterra's home battery system is the ideal solution for solar systems, which are dedicated to using solar energy for optimal performance. The home battery system prioritises solar energy first and ensures the compliment of power by drawing energy from the batteries and the public grid during consumption peaks.
Solar energy has become the most dominant renewable energy for residential and commercial installations, and with its huge range of energy saving, cost saving and environmental benefits, it's not hard to see why.
But, as Australia's retail energy grid prices continue to rise, maybe it's time we start looking to get as energy independent as possible. To do so, you will need a solar-plus-battery storage system! Like solar panels in recent times, batteries have become increasingly more affordable for home and business owners to both get off the grid, gain energy independence and benefit from instant and long-standing energy cost savings.
How Does a Solar Battery System Work?
To put it simply, a solar plus battery system works by storing all of the excess energy generated by your solar panels to then be used at times of peak power consumption, at night or in the event of a power outage. Your solar will have an integrated smart system to monitor when your energy consumption is in excess, so that your generated energy will now both power your home at the same time as storing your excess energy which would usually have gone to the grid for a lesser economical rate. As a result, you will now have privately stored solar energy to power your home or business while others will continue to have to pay to borrow theirs from the grid.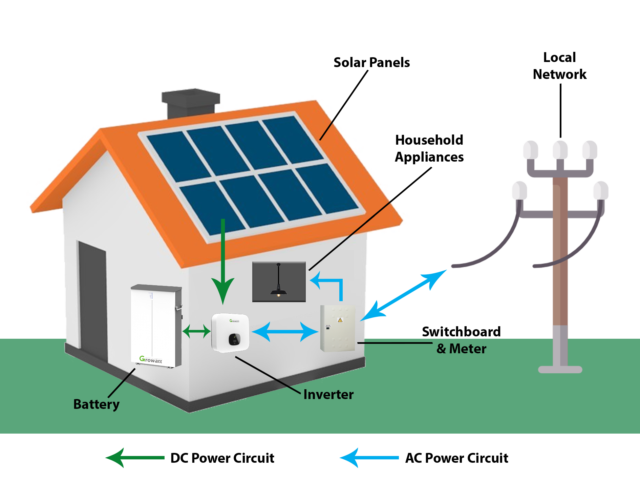 Use your solar energy at times that best suit you
Blackout Proof: A back-up battery system designed to instantly power the home in the case of a power outage
Reduce power consumption at peak usage times
Potential to make money by selling excess stored energy back to the grid
Reduce influence of power price hikes and become more energy independent
Reduce energy costs by charging your battery from the grid during off-peak times
How Your Solar Battery System Works For You
Like every solar system, you will be harnessing the full benefits of your system through the day when your panels are able to turn Australia's abundance of sunshine into renewable energy to be used in your home or business. With a quality solar system from Sunterra, you should be able to cut out a huge portion of your reliance on the energy grid and instantly save on your growing retail power bills.
What's better is that you are additionally able to export this generated energy to the energy grid through the day to receive and build-up a credit from your energy supplier! But, as many Australian households tend to use a majority of their energy during late afternoon and evening times, this credit may not be able to support your energy usage to help you be as energy independent as possible. This is where a battery storage system comes into play.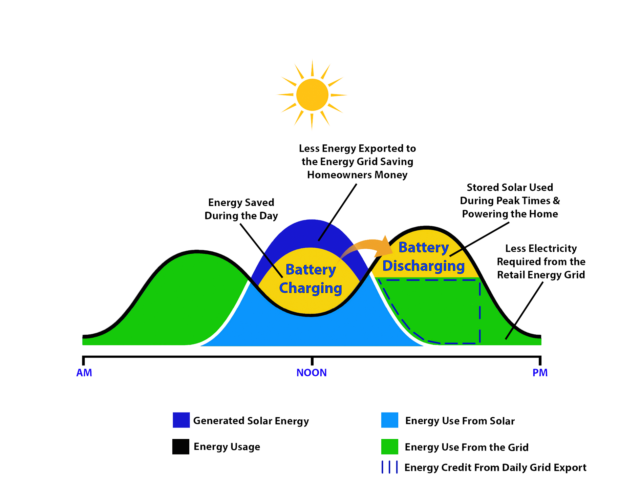 In the graph above, a great deal of your energy usage will be coming from your solar system, but instead of exporting your excess generated energy to the grid once your property does not need any more energy supply from your panels, your battery storage system will kick into action to store this excess energy. This is a far more economical process for energy consumption as your battery will be able to supply your evening and early morning energy usage when the panels aren't generating electricity.
Solar Battery Options For Your Property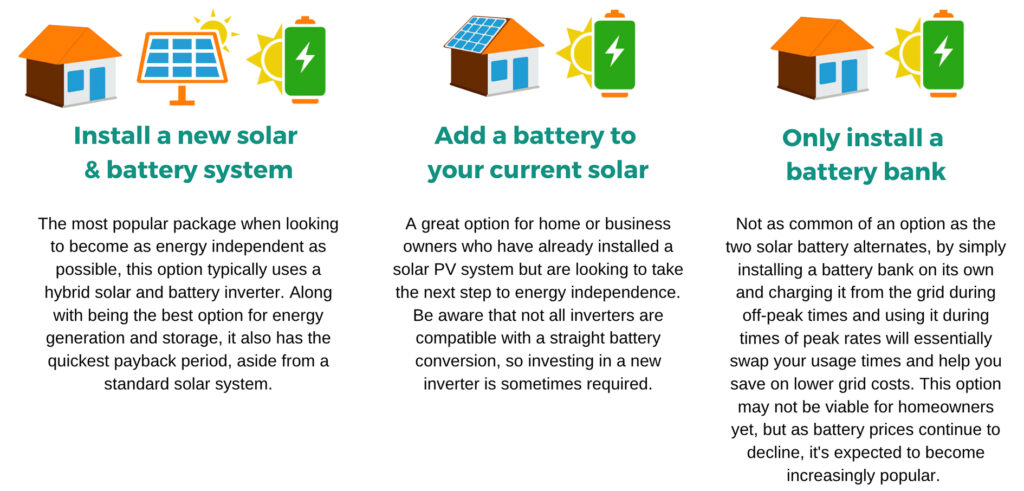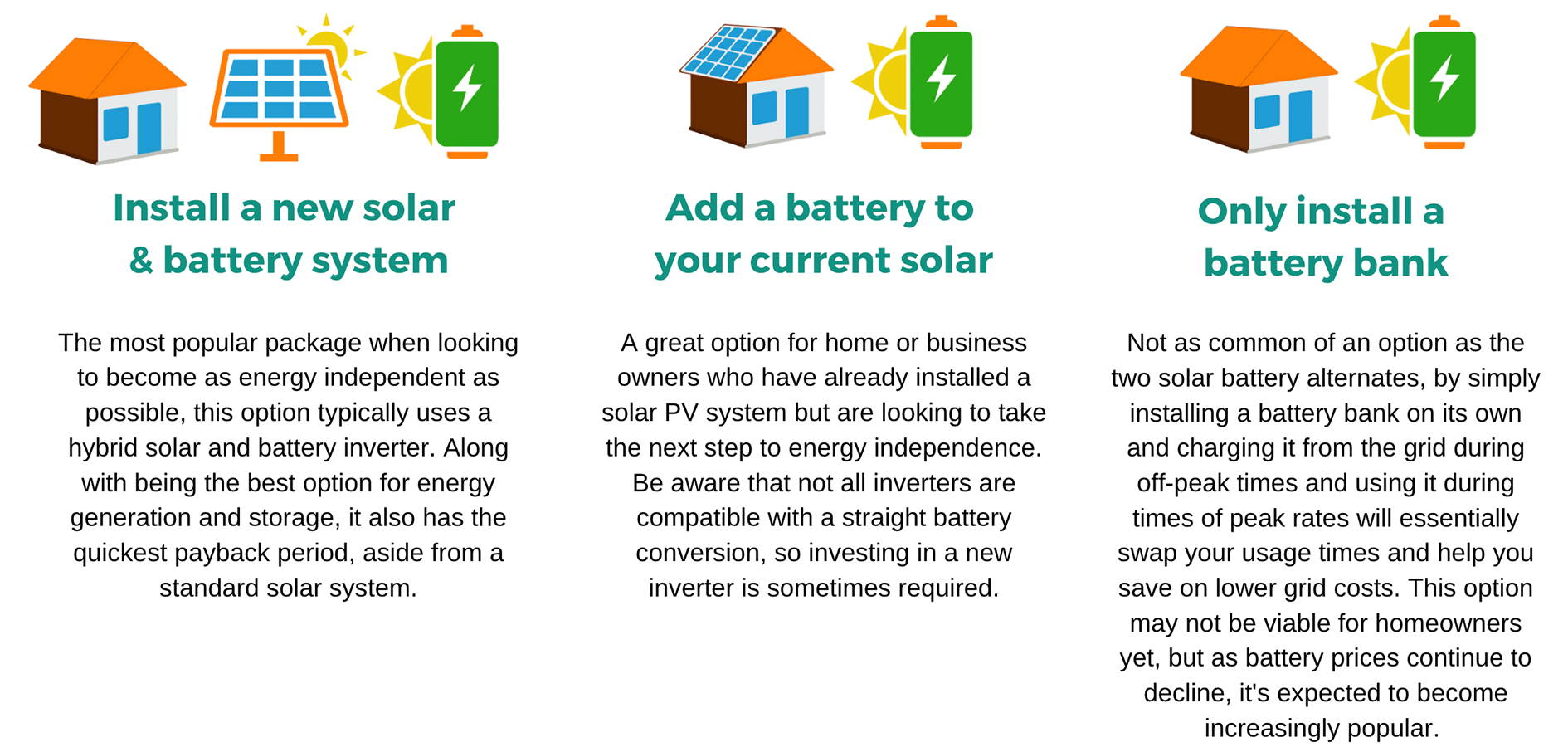 Optimised Battery Storage
Sunterra's Home Battery System intelligently manages the generated solar power firstly to the loads. Only the excess power is used to charge the batteries. Battery discharging only takes place during times of high consumption, night-time and during times of limited solar production, resulting in improved overall efficiency of the system and extended battery life. Therefore, the self-consumption of solar energy will be optimised.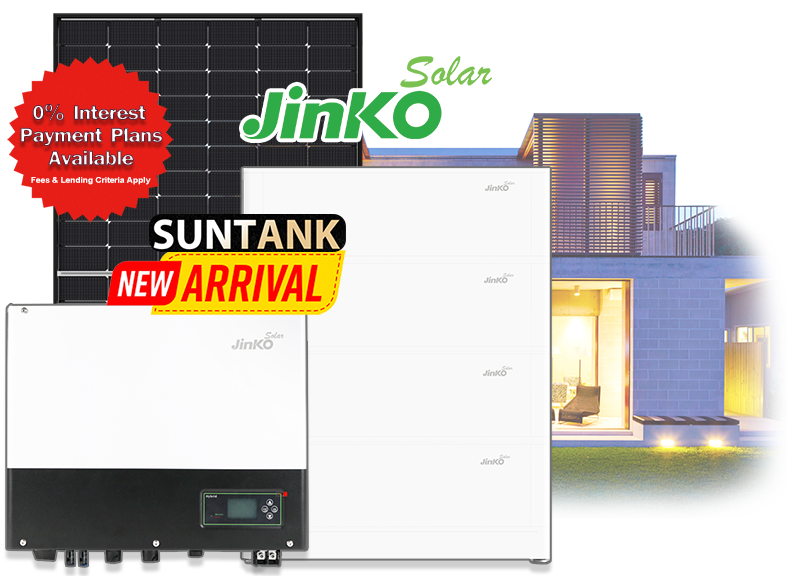 We make the Home Battery System be possible for energy independence and autonomy with the self-generated solar production. Our Home Battery Systems represent the most advanced technology and innovation that simultaneously manage several energy sources and compensate the fluctuation and intermittence of the solar energy. The Home Battery System will intelligently adapt its energy management strategy while respecting the objectives of the user: autonomy, lowering the energy bill, security of power supply, etc.
A flexible architecture to allow a wide range of battery storage capacities
The integrated Wi-Fi communication allows local (webserver) or mobile App control of the Home Battery System through overhauled monitoring interface.
Self-consumption, back-up, isolated site, Virtual Power Plant…Sunterra's Home Battery System is the solution ready to function in all scenarios.
Sunterra's Home Battery System has the Blackout Proof feature (optional at an extra cost), which can instantly secure the power supply for essential devices (lighting, Wi-Fi, freezer…).
SMART GRID & ENERGY SOURCES MANAGEMENT
Sunterra's Home Battery System prioritises renewable energy using the solution that is taking a step towards autonomy.
The Home Battery System manages multiple energy sources (Solar, Batteries and Grid) and adapts the available power according to the conditions of solar production and overall consumption. Each kWh produced is directly consumed and stored in batteries or sold to the grid.
We'd love to hear from you
Calculate your savings and find out why everybody saves with Sunterra! Contact Us Today!