Almost all solar panels are now using half cell technology. The application of this technology greatly improves the efficiency compared to the traditional full cell ones.
Relative to full sized solar cell, the half cell technology is to cut each solar cell in half again. It's like cutting a slice of bread in two. After the cell is cut in half, it means that the electrical current passing through each busbar is halved. According to a physical formula: P loss = R x I², the power loss inside the silicon wafer is only 1/4 of the full sized cell module.


The panel size remains the same but number of cells are doubled. For example, 60 cells in a panel become 120 cells by using half cell, 66 becomes 132, 72 becomes 144, and so on. Is it easy to understand?
Firstly, reducing resistance in busbar to increase efficiency. We all know that the longer the conductor, the greater the resistance. Full cell with 60 cells produce more resistance resulting in lower power, while half cell with 120 cells cut the path of electrical current following in busbar in half, so the loss will naturally decrease. Furthermore, lower resistance means more energy from photons would be captured.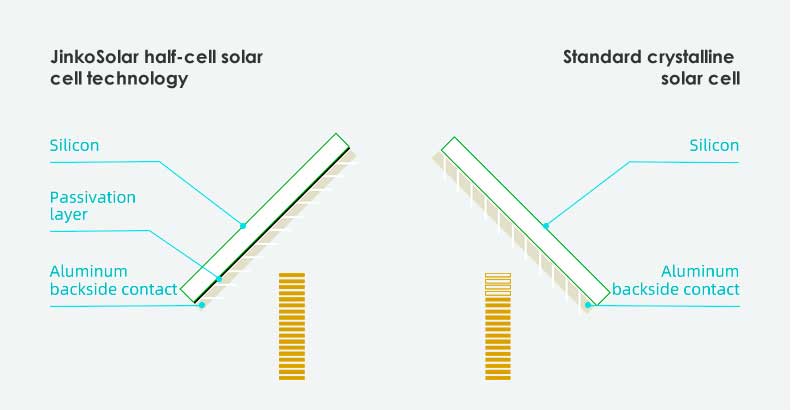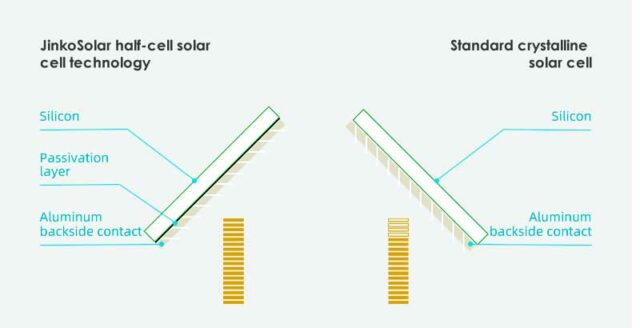 Secondly, less loss in shading conditions. The biggest fear of solar panels is actually being blocked. Most of these blocks come from the shadows of trees. Half cell panels respond well if the panel partly shaded as well as in some certain low light situations. In general, the power is not completely lost and at least half of it still works because the current direction in the half cell does not need to pass through the entire panel.


Thirdly, excellent performance in high temperature. Because of the existence of 3%, the panel converts more sunlight into electricity, so the heat is reduced. Heat is the killer of solar panels, so the half cell module can effectively reduce around 2 degrees.