Something you need to learn about in rooftop design.
Why we consider the property location, roof condition or orientation when we want to install a solar system?
In first step, you should think about if your roof condition is suitable for a solar panel installation. And the same consideration should also be on you mind at first when your home is going to build and will use solar panels. Besides, property location also stands for the local solar irradiance level and temperature. Both of these two variables result in how much power DC supply generated from panels because solar panels are mainly composed of cell modules. Besides, your MPPT and String inverter also need to work according to your roof PV arrays.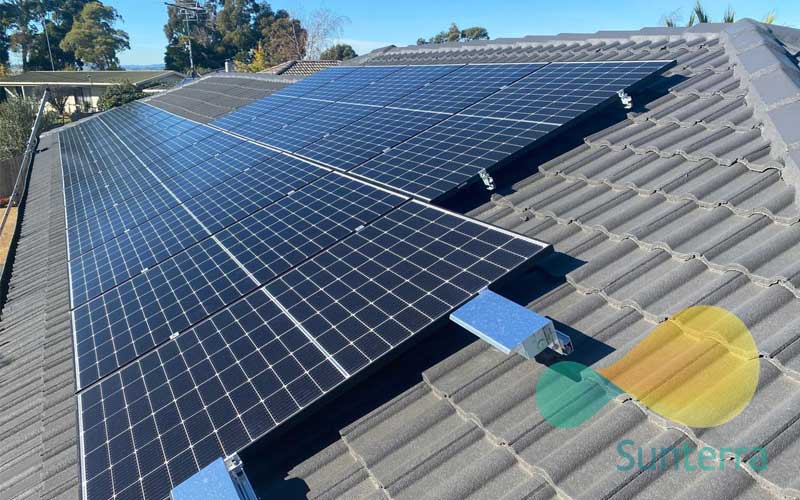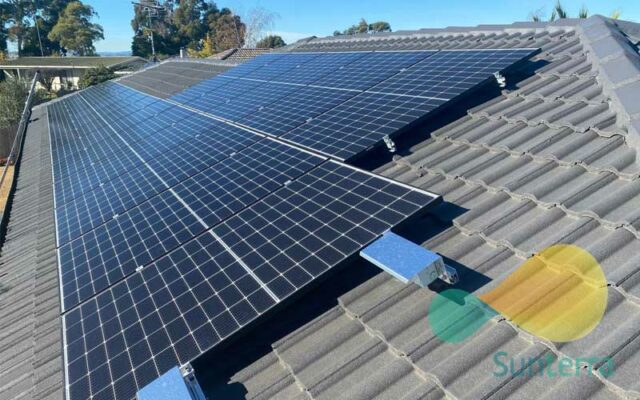 Don't worry, our experienced team will post you a solar panel report including rooftop layout and estimated performance. Further more, CEC approved installers also carry out a site inspection to update job scope before installation.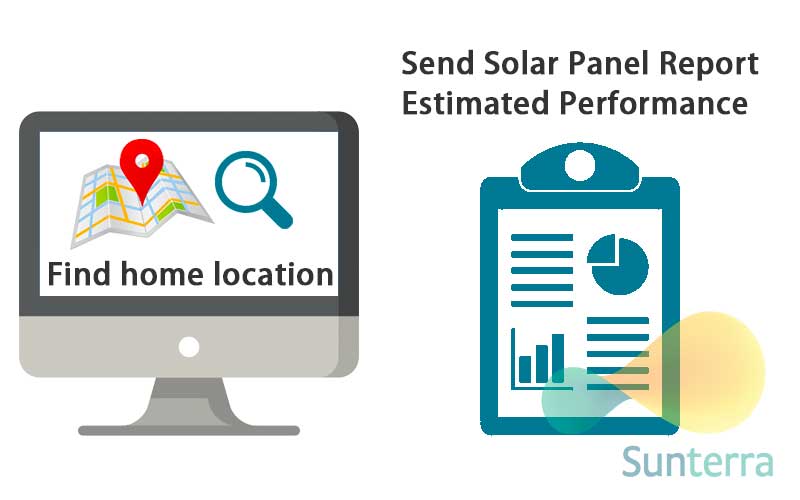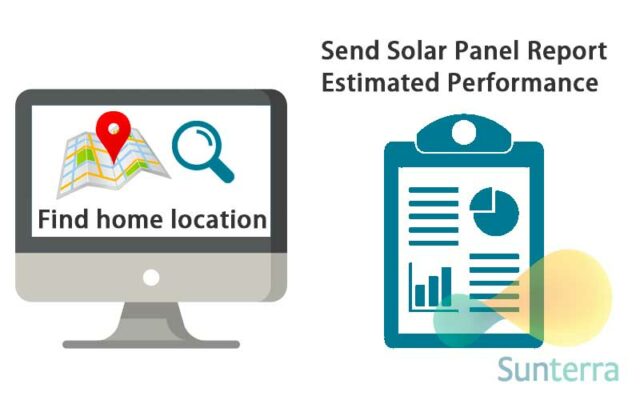 What are the factors in rooftop design?
There are many variables affecting the results as follows:
1、Orientation
---
General speaking, north facing is always the best because they will have the most sun exposure. If the long side of your house faces north, congratulations, you have a great chance of installing the solar panels on the north side.
We have to say that not everything is facing north, more or less there is a directional deviation. But as long as the roof is in the north range, such as north by northwest or north by northeast, they are still good, not too much energy loss. Of course, the more angular deviation, the more energy is lost.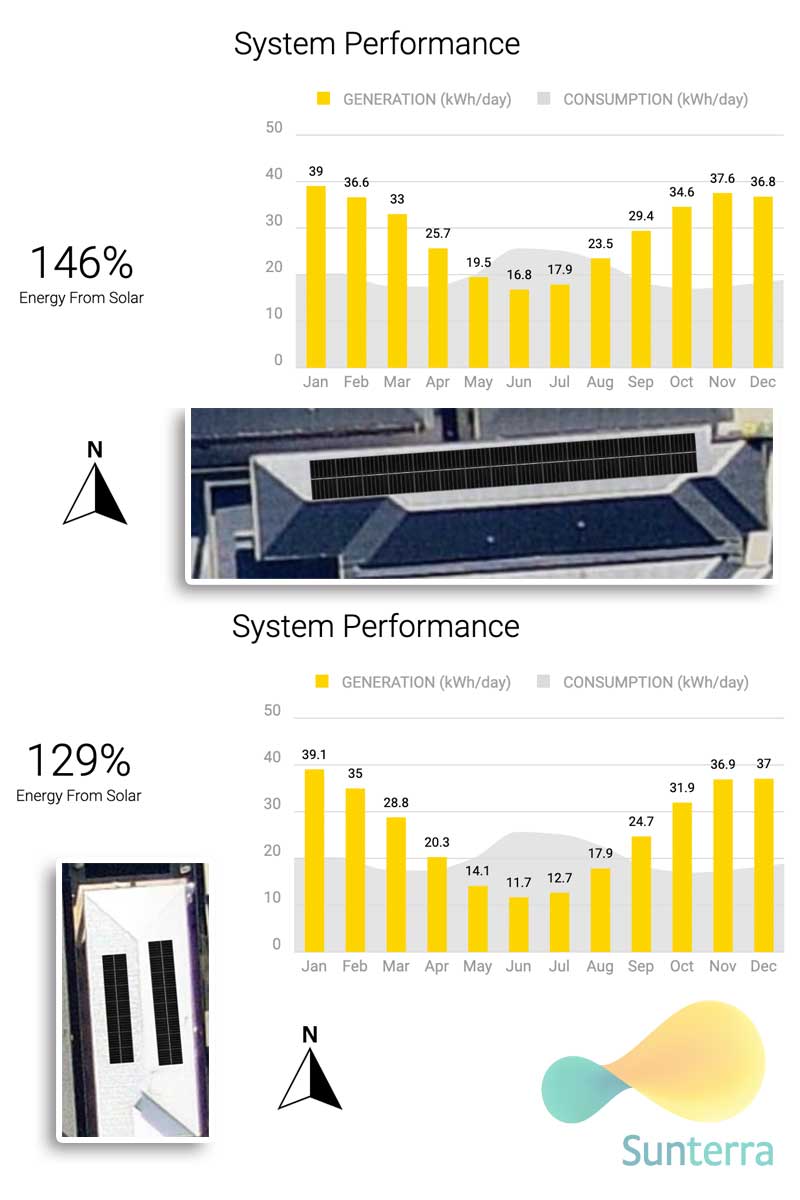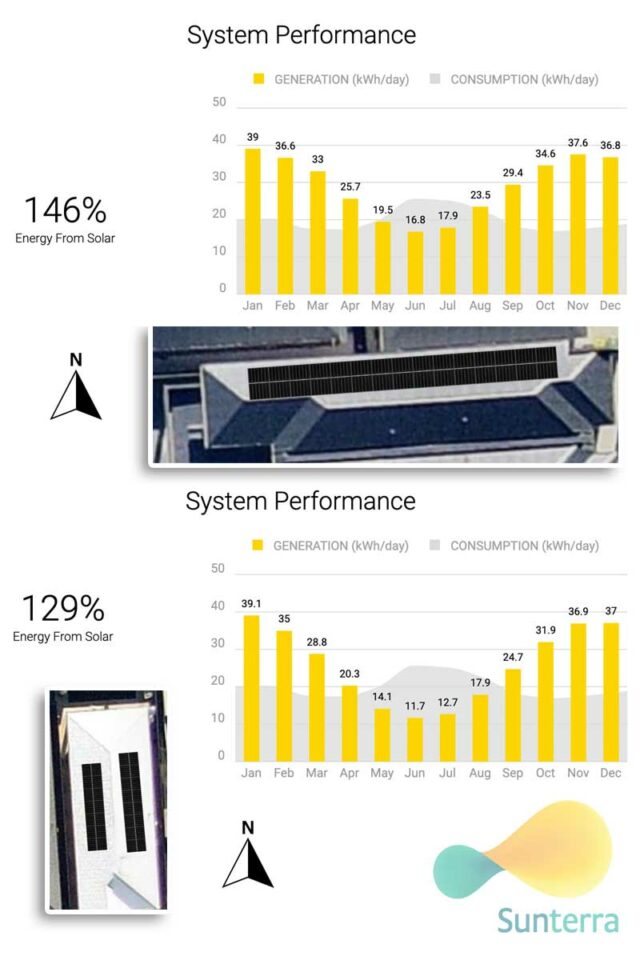 East-west roofs are another very common, only second to north facing, but still has its special feature. For example, east faced panels will be more productive during the morning. While, sunshine will cover west-facing rooftop well during the afternoon. If you wake up late and need more power in the afternoon, that's the time.
The main problem of east-west faced panels is unbalanced total voltage. The panels on the east will get sun in the morning, but not the west. so the total voltage of the string will be very low and the inverter will stop production. Therefore, we put optimisers on west panels to manage the voltage.
We do not recommend placing the solar panels in the south area, neither southeast nor southwest is a good idea. Even if the number of panels is large, the PV generation efficiency is not good. Importantly, it may affect system stability.
So an example that we won't cover your roof with 30 pieces of 440w panels to cater a 13.2kw, as that's not a professional approach.
Always relying on rooftop conditions. That's why we want your detail address of property first.
2、Available Roof Area
---
Is the roof area large enough and then can fit more panels you want? In most cases yes! Availability is crucial.
It's directly decide how much size your PV system is. For a 6.6kW solar system, you should use 15 * Jinko 440w at least. Let's roughly estimate, if you have around 33㎡ north roof without any obstacles, you can install all of these panels on the north side to get maximum efficiency.
It also depends on what types of panels you choose because of different kWs of each panel. So, in 6.6kW system, 15*440w panels can be equivalent to 18*370w, which saves roof space and finally fit more panels to the best orientation.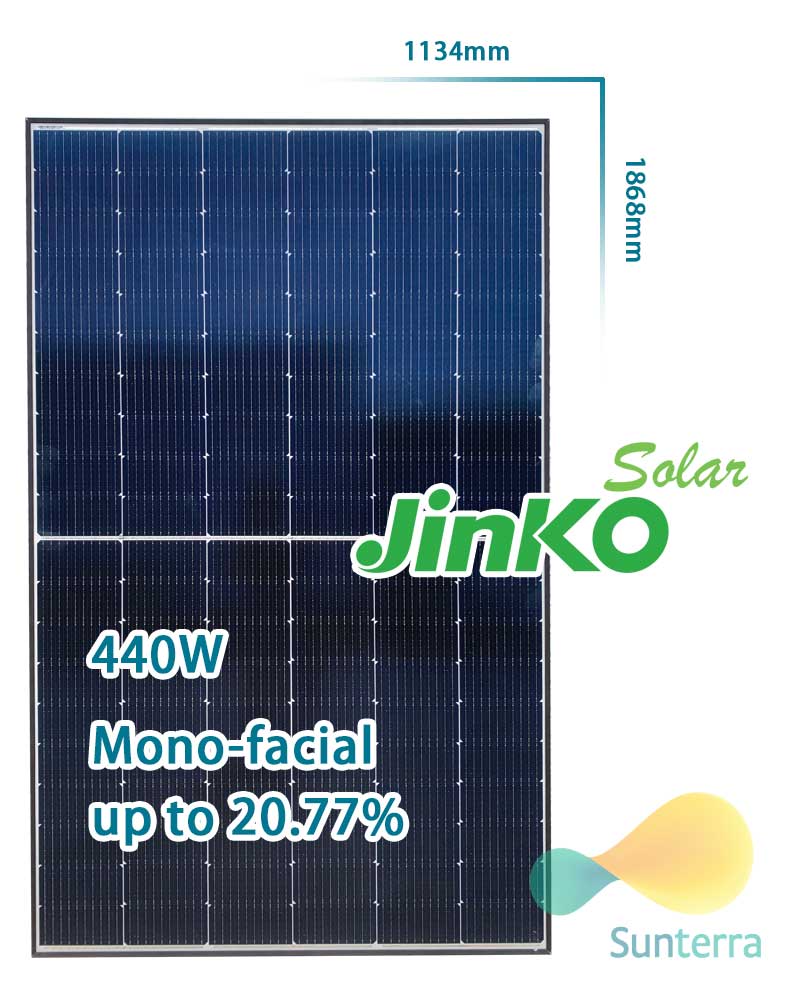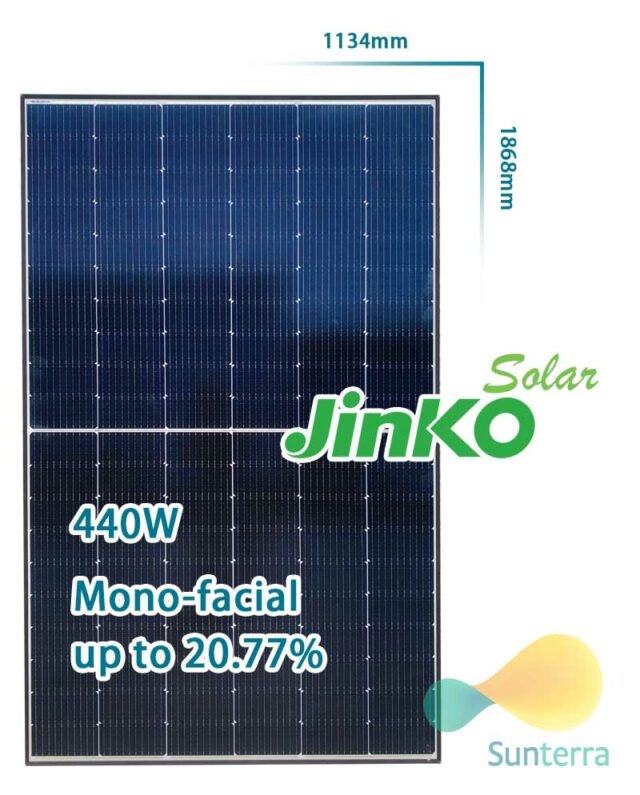 Firstly, roof construction is a main factor. A continuous roof is simple to design and install. However, those discontinuous roofs complicate design and installation. That is to say, sometimes those originally nice-orientation areas have to be abandoned because they are not suitable for fitting panels due to too small for each section, blocked, and even with obstacles etc.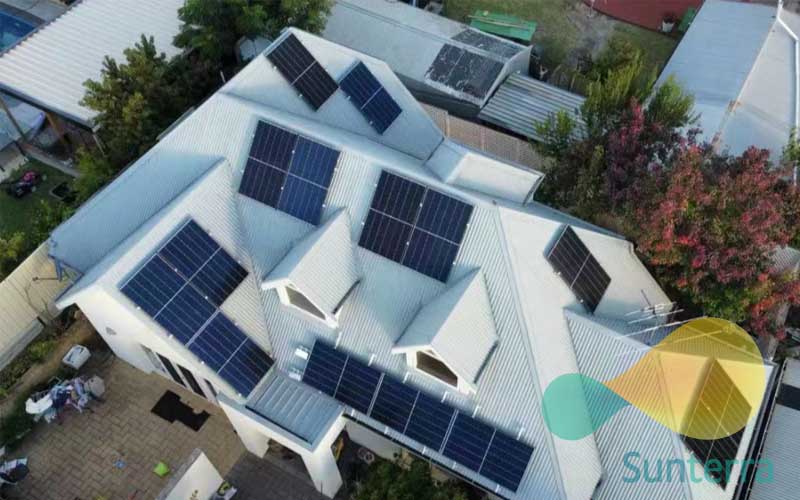 Secondly, shaded places are always annoying, which seriously affects the power generation efficiency. Solar panels are connected in string circuits by cables, either in series or in parallel, minimum 4 panels or maximum 12 panels in one string. When they are shaded, even if one is shaded, can both cause power output of all panels drop in this circuit. As we discussed above, like east-west rooftop, the total voltage of the string will be very low and the inverter will stop production if there is no sunlight due to shadows.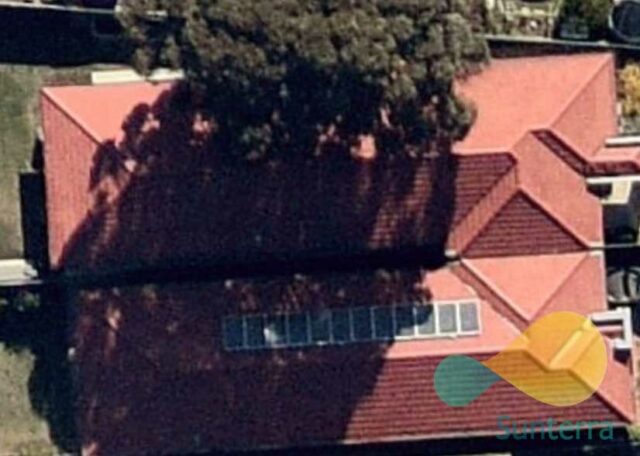 3、Roof pitch
---
You should ensure that your panels will be installed on rooftop at about 30 degrees so that panels can get optimal sunlight for PV generation. No matter tin or tile roof, this rule is always applied when you call a professional solar company.
If your home has a flat tin roof, you need to use tilt brackets to complete panels installation.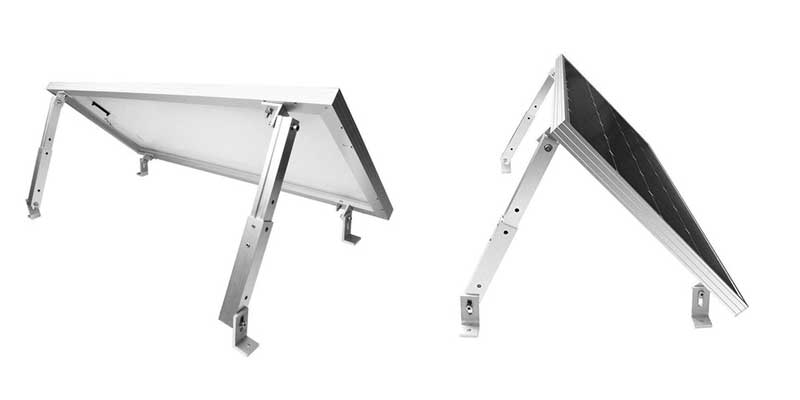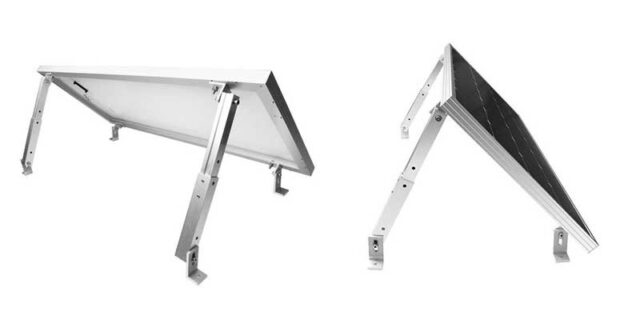 Installation will be more difficult if the roof is steeper, and it also affect the power generation efficiency. We do not recommend install any solar panels if slope is more than 45 degrees.