Why Jinko 370W N-Type solar panel is more popular?
Introducing the World's No.1 PV Brands Jinko Solar's Latest N-Type 370W Residential Solar Panels, with 20 years product warranty and 30 years performance warranty!
The Jinko Solar Tiger N-Type 370W combined the most advanced technology to maximise the module's efficiency up to 21.25%. With performance assurance, the 370W panel is the best option for your residential solar project!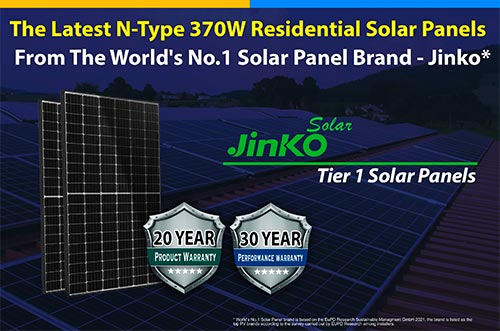 What are the features of Jinko 370W N-type?
Using the N-type technology, the efficiency of Tiger 370W would be reaching the highest power class achievable for a 60-cell and 163-wafer size module. Different from the P-type solar cell, the N-type solar cell does not suffer from any sort of light-induced degradation since it used the doped phosphorous silicon to eliminate the sites impurities of boron oxygen. Through the application of the latest advanced technology, in combination with TR (Tiling Ribon) technology, which optimizes the gap between cells and utilizes diffuse irradiation, the efficiency of N-type 370W modules can reach up to 21.25%, which is 5.8% higher than p-type.
The user-friendly and compact design of the panel also conveniences the process of installation, handling, and transportation. With the dimensions of 1692×1029 mm, yet a high-performance guarantee, Jinko N-type 370W panel is the best solution for designing and installing your next residential PV projects.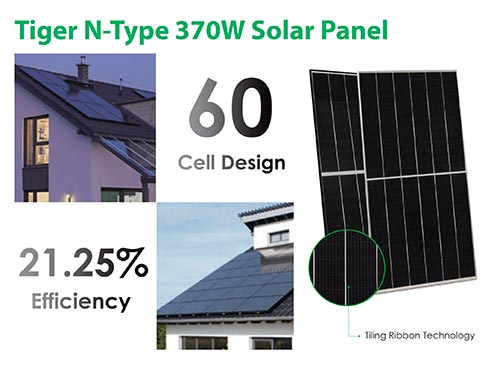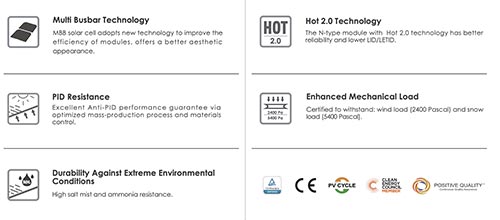 Best Warranty Ever Offered By Jinko 370W N-type
Having absolute confidence in the product quality and performance, the Jinko N-type 370W solar panels have a 0.4% annual degradation over 30 years. The model boasts a 20-year product warranty and a 30-year linear power warranty, which is the best and longest warranty ever offered by Jinko.

Compared with a P-type 370-HLM module, Jinko 370W N-type boasts 8 more years of product warranty and 5.8% higher efficiency. Besides, is 4.6% smaller, has a lighter weight and delivers a better performance.
In conclusion, Jinko 370W N-type maximises the module efficiency, delivering higher power in a more compact size, which makes it simply the best solution for the design and installation of your residential PV project.