What incentives are available?
Currently, there are two types of incentives to help you get financial supports for your solar systems:
1. STCs:
Small-scale Technology Certificates(STCs) is also called 'Solar Rebate'. A STCs is equal to 1 MWh of renewable electricity. They are generated by or instead of qualified small-scale renewable energy systems such as solar PV, wind and hydro, as well as solar water heaters and air-source heat pumps.
STCs provides an economic incentive to install small-scale renewable energy systems by reducing upfront installation costs. The number of certificates you can create per system depends on its geographic location, date of installation and the amount of electricity in megawatt hours (MWh)
The STCs are designed to incentivize more Australian households to install their own solar systems, as it seeks to make the solar market mainstream and affordable for home installations. However, the program will not run forever, and will be reduced slightly at the end of each year, eventually becoming zero in 2031.
How do I sell my STC?
The easiest way to do this is to have your installer do it for you, the process is relatively simple as all the paperwork is taken care of and it can be used as a rebate on the cost of the installation.
Of course, you can also choose to sell the STC yourself, you will have to deal with a lot of paperwork, applications and associated fees. Depending on the number of buyers and the time it takes to complete this selling process, it may take several months after installation to receive the funds. So there is no way to tell exactly how long you will have to wait and you may find that you lose money. While you may be able to get a better selling price, this approach is not recommended.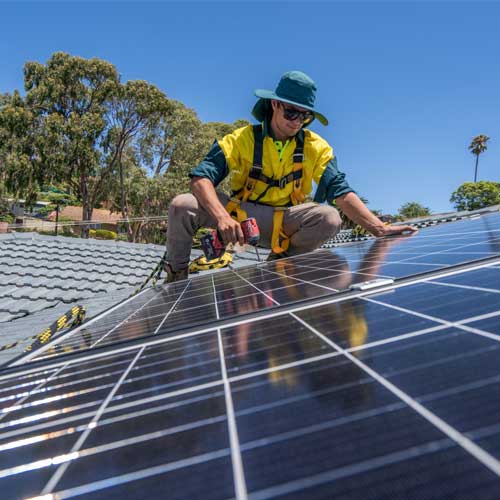 Use the Calculator to figure out how much STC your system will generate.
2. FiTs
If your system is connected to the grid and sends electricity back to the grid, the rate you pay is the feed-in tariffs (FiTs).
In Australia today, almost all FiTs is net feed-in tariffs, which means that the remaining electricity is paid for after deducting the electricity used by the household. Over the past few years, FiTs has fallen significantly across the country. This depends on your location, the energy retailer you choose from, the time of day, and other factors.
See more details about FiTs in your state:
· NSW: Energy Saver program
· QLD: Department of Energy and Public Works
· SA: Department of Energy and Environment
· VIC: Department of Environment, Land, Water & Planning
· WA: Energy Policy WA
In addition to these incentives, some states and territories offer other solar rebates and loans:
· NSW:Apply for the Empowering Homes solar battery loan offer
· NSW:Apply for solar for low income households
· VIC:Solar panel (PV) rebate
· VIC:Solar battery rebate
· SA:Home Battery Scheme
The above battery options are included because they can be applied to new solar PV systems that include batteries.
Rebate programs change from time to time, so it's worth checking the federal government's energy website to see what's available in your area.
Be sure to double check the terms and conditions of any rebate program to make sure you qualify and what steps you need to take. For example, many programs are only available in certain areas or zip codes, may offer a limited number of locations, or are only available to households below a certain income level, or you may need to get approval for the program before you can install.